Your guide to Taoist secrets of sexual vitality, healing and radiance
6-week online course for women starting on 21st May

Woman in her power is deeply anchored in her body. She is an open channel between heaven and earth. She listens to an intuitive voice of her yoni, a portal to the creation itself. She worships her as a temple, a place of her power, guidance, connection to the divine.
Are you a woman who desires to:
learn how to consciously awaken and cultivate your creative and sexual energy
increase sensitivity and pleasure potential of your yoni
tone your pelvic floor muscles as you find a balance of strength and relaxation in your yoni
heal old conditioning, past wounds and create a new, empowered relationship with yourself and your sexuality
love and appreciate your body, feel more sexi and body confident
---
If your answer is YES, then this course is for you.
---
Sadly, many women have limiting beliefs, feeling guilt and shame related to female body and sexual pleasure. They tend to hold a lot of unwanted and repressed emotions and memories in the pelvis which can provoke tension, pain, numbness and a general feeling of disconnect.
As a result you might suffer from pelvic health issues, menstrual cramps, low libido, lack of creativity, low energy levels, not feeling good enough, beautiful enough or worthy enough.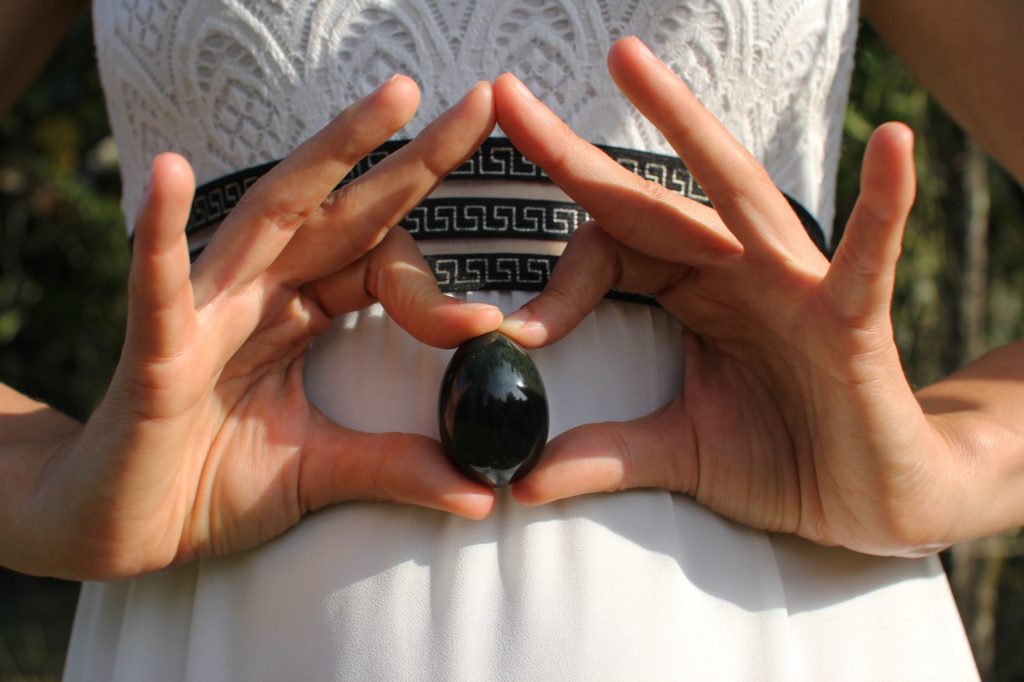 In the ancient Taoist tradition, a vagina was worshipped as a cosmic portal to the universe where all life comes from.

Yoni, a Sanskrit word for vagina, literally means a sacred temple, a sacred gateway.

Taoists knew that she was a portal to powerful life-force energy that can be used to create whatever you desire. And they developed crystal egg practices to activate and harness this life-giving energy.

These practices help you to build body – mind connection and fall in love with yourself. You learn to be present inside your body, quiet your mind and attend to the bodily sensations which will enhance your capacity to feel and expand your creative and sexual energy.
You learn to listen deeply to subtle movements in your body and unlock your yoni's full potential and power with your breath, sound, movement, touch and loving presence. As you connect to this powerful source within you become more radiant and magnetic.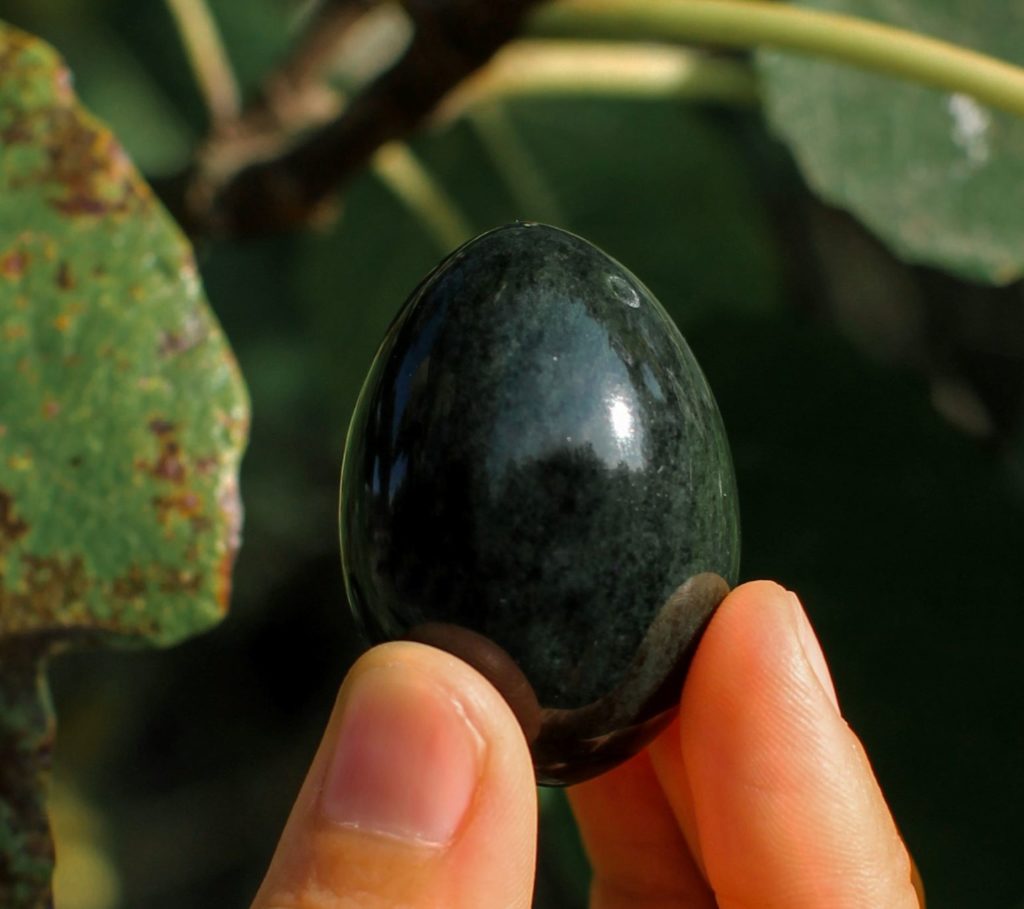 Working with a yoni egg can also help you:
Activate blissful waves of pleasure in your whole body
Increase sensitivity in your yoni
Strengthen your pelvic floor muscles for a strong, yet relaxed pussy that enhances health and vitality
Heal your relationship to intimacy and sexuality
Shed old wounds and experience your expanded sexual and orgasmic nature
Harmonize hormonal imbalances
Reduce breast discomfort and menopausal symptoms, by increasing vaginal lubrication and balancing estrogen levels
What will you learn in this program
~ Explore your pleasure anatomy
~ Cultivate deep presence in your sacred pelvic bowl
~ Taoist healing sounds to clear and transmute stuck emotions
~ Wands of light _ womb clearing practice
~ Breathing practices including Microcosmic breathing and Ovarian breathing
~ Delicious breast massage practices to sensitize your breasts, clear toxins and awaken healthy energy flow
~ A variety of yoni egg practices to develop a profound connection with your yoni
~ Map and activate your yoni reflexology points
~ De-armoring practices to release stored tensions, memories and emotions in your body and yoni
~ Manifest your deepest longings and desires with the power of your sexual energy
---
---
Each week contains pre-recorded videos & audios and live guided rituals via zoom.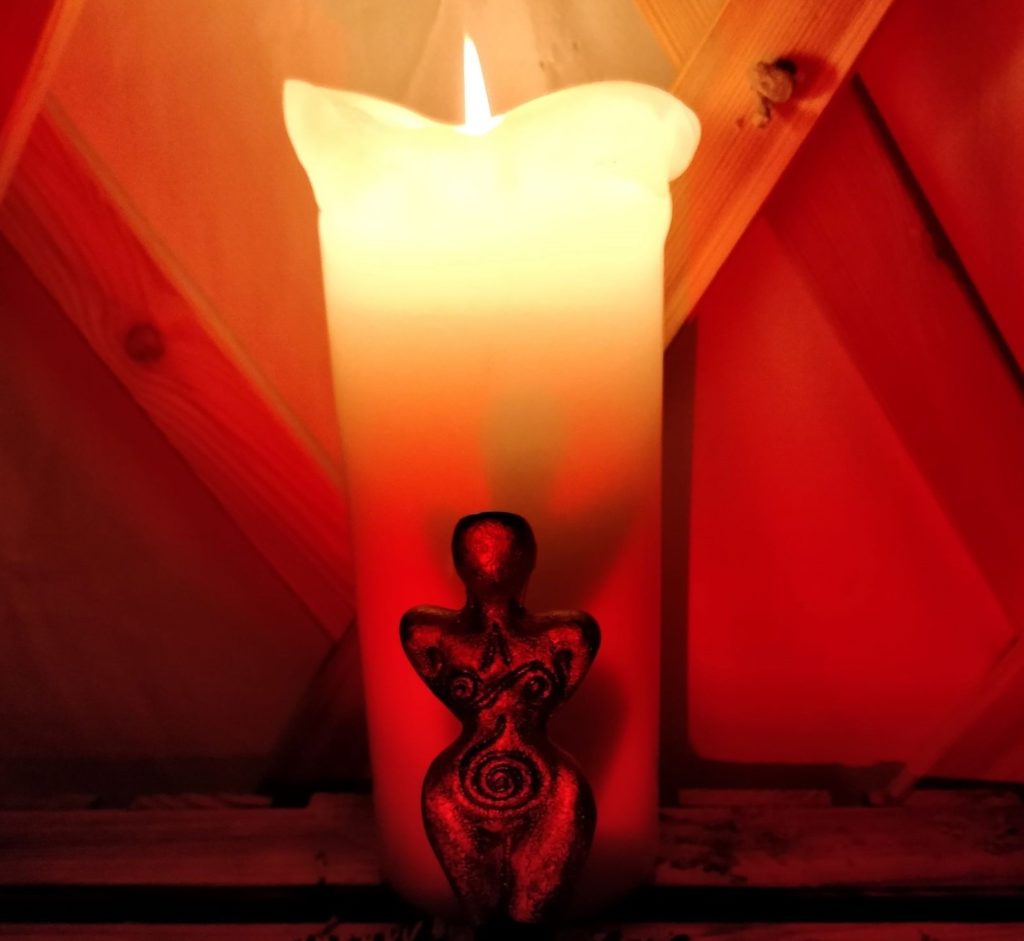 Dates of Live Guided Rituals:
Week 1 – Tues 23rd May at 18h15 – 19h45
Week 2 – Tues 30th May at 18h15 – 19h45
Week 3 – Tues 6th June at 18h15 – 19h45
Week 4 – Tues 13th June at 18h15 – 19h45
Week 5 – Thurs 22nd June at 18h15 – 19h45 ~ Embodied Yoni Voice Exploration with a guest teacher Anna Grabner http://www.yourvoicemoves.com/
Week 6 – Tues 27th June at 18h15 – 19h45
Price and registration
YONI EGG MYSTERIES
6-week Program
Weekly video and audio content and live guided rituals
Early bird 222€ until 7th May
Full price 299€