6-week online programme for Women starting on 16th April 2022
Step into your Menstrual, Creative and Sexual Power
Are you ready to heal your relationship with your womb and feminine nature and reclaim your creative birthing power? Do you feel that you struggle to create and manifest what you truly desire? Perhaps you are exhausted by constant changes in your body, mind and emotions and you feel that your menstrual blood is an unwelcomed guest and a source of physical and emotional pain and suffering and you feel disconnected and ashamed of your body, your blood and sexuality.
Do you feel like you never received a real Initiation into womanhood, your menstrual, creative and sexual power and this is somehow holding you back from stepping into your full potential as a woman? What if you knew that your womb is your path to wholeness that holds magical keys for you to become a woman standing in her true feminine power?
This 6-week online programme teaches women how to love your feminine nature, live in harmony with your cycle and create more balance in your body-mind by consciously working with your menstrual cycle and activating your womb power.
In this programme you will explore
~ Modern and ancient teachings around your menstrual cycle
~ Embodiment practices from womb yoga, taoist and tantric tradition including conscious movement, breathwork, meditations, energy work, relaxation
~ Feminine archetypal wisdom related to each phase of your cycle
~ Initiation rituals into your womanhood
It is a beautiful combination of online content full of womb feminine wisdom and 6 live ceremonies to journey with other women in real time.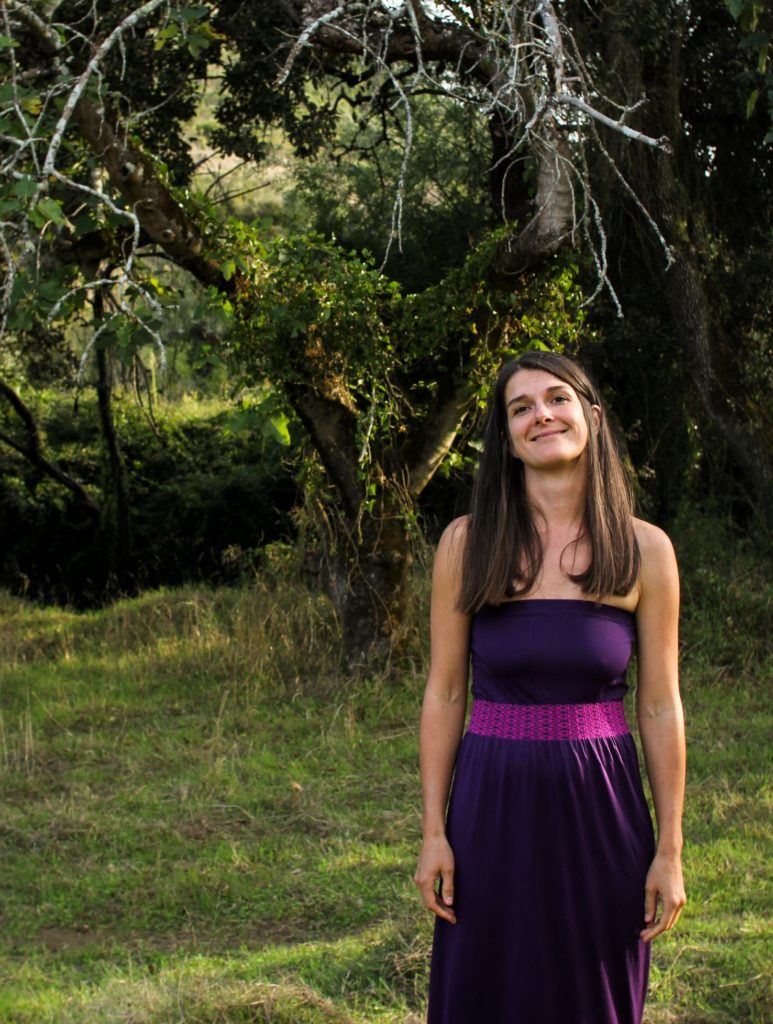 My womb became my big teacher
My name is Martina and I used to suffer from very painful periods – literally unable to do anything. As I started to listen to my womb, I realized I had many fears related to my womanhood. I didn't feel safe in a woman's body and unconsciously rejected my body, my femininity, my cycle, my blood, my sexuality and essentially who I am.
As I started to work with my cycle and listen to my womb I started to shed many layers of conditioning, fears, shame and guilt related to my female body. Some of old emotional wounds started to heal and so did my physical pain. Creating an intimate connection with my womb and cycle helped me to create a new relationship with myself. I started to love and appreciate my female body and found a new sense of safety within me and discovered creative magic of my womb. I learned to create in harmony with my body's natural rhythms and express myself and my gifts in the authentic way.
Changing Feminine Narrative
When you learn to flow with your cycle rather than against it, you will feel supported by something greater than you and empower yourself on so many levels as a woman. You become healthier, more in tune with your body, your creativity and sexuality which will have a profound effect on your relationships, work projects and your overall well-being. Your body and womb will become your internal compass that you can always trust. You will feel in charge of your own body as you become more connected to your deep inner knowing.
Why this matters?
The womb is where all life comes from. It can create, nourish, grow, and give birth to life. Most women don't realize how much potential and power they hold in their womb. On the contrary we have been conditioned to think of our blood as something dirty, our menstruation as something inconvenient or something to ignore, our PMS as symptoms of crazy and hysteric women. There is so much shame, taboo, pain, fear and suffering related to our female body and menstrual cycle.
Often, we reject our body and femininity even without realizing it. We try to control our cycle by artificial hormones and use menstrual products full of chemicals and toxins. We ignore many changes happening in our female body throughout the month. We live in the society that expects us all to just go, go, go – no matter what. Our body has been cut off from our mind. No wonder there are so many women who suffer from hormonal imbalances, menstrual pain, pelvic health issues, emotional rollercoasters especially during so called PMS and a general exhaustion.
Women's bodies are screaming loud – and it is time to hear them.
What other women said about this course
"The Womb Journey is a very important course in the field of personal development. It allowed me to learn and reconnect to my inner wisdom and power, learn about the physical, but also mystical aspects around womanhood and the female body and how to live more in tune with my monthly cycles. "
"My personal path of diving into female body wisdom has brought a whole new depth into my life as a woman. Working with Martina has supported me in reconnecting myself to a deep ancient knowing, wisdom and power. This enabled me to go through a process of shedding old pain and experiencing profound healing. And it also inspired me to make more space for honouring, enjoying and celebrating my body, female cycle and daily rituals. I wish this for every woman!!"
"I wish I had learned about the magic of our menstrual cycle already as a teenager. My personal key lessons are to take better care of myself and my needs and to make better use of my creative and reflective phases along my cycle. I now better understand what it means to honour my body and my blood. The course is beautifully designed – structure and content-wise, but also aesthetic-wise and provides a well-balanced mixture of self-paced learning and live ceremonies."
So if you are ready to say yes to your womb, this is what you get
~ Access to audios and videos on the online platform
Ideally you want to allocate about 20 – 30 minutes per day to practice
This includes teachings about each phase of your cycle and embodiment practices for women from womb yoga, taoist and tantric tradition including conscious movement, breathwork, meditations, energy work, relaxation to help you feel more aligned with your feminine power and womb wisdom. For detailed programme scroll DOWN
~ 6 x 2,5hour LIVE Ceremonies via Zoom
Every Tuesday evening we get together to connect with your fellow womb sisters and embody each phase of your menstrual cycle in ritual and sacred feminine practices
~ Private group for you to share your journey with a beautiful community of women
~ My continuous support throughout your journey
This includes LIVE Q&A in 2nd and 5th week (days to be confirmed)
~ 1 year access to all the online content
This also includes access to future rounds within a year for you to deepen your experience
What will you explore each week?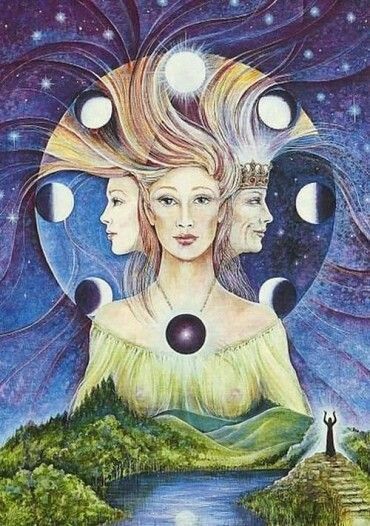 Week 1 – Welcome to your Womb Wisdom
What is your cycle teaching you
Gifts of your menstrual cycle
Main hormones and a brief overview of 4 phases of your cycle
Menstrual mandala – how to keep track of your cycle
Basic Womb yoga practices
Live Zoom Ceremony via zoom on Tuesday 19th April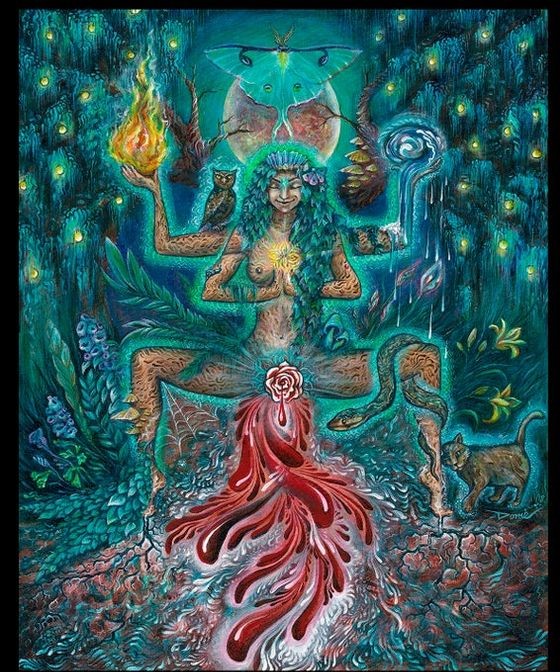 Week 2 – Menstruation Your Visionary Power
Resource yourself, connect to the ancient wisdom of your womb, become a powerful visionary, re-connect with the Dark Goddess in you, honour your blood as your medicine
Red Tents and Your Power of Visionary
Breaking menstrual taboo and shame
How to honor the Dark moon of your cycle
Archetypal Wisdom – Hermit, Wise Woman, Dark Goddesses
Blood rituals initiation
How to reduce and deal with menstrual pain
Embodiment practices from Womb yoga and Taoist tradition to resource yourself, practice surrender, tune into your visionary power
Live Zoom Ceremony via zoom on Tuesday 26th April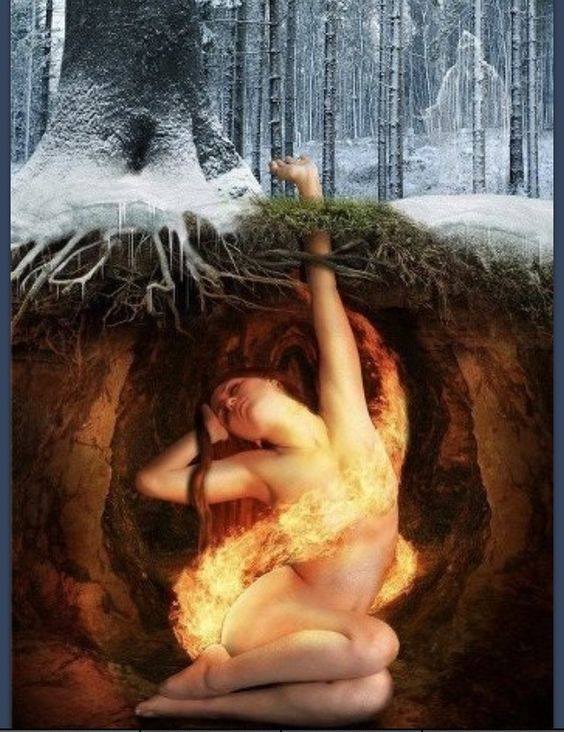 Week 3 Follicular Phase Your Creative Power
Connect to your ovarian power, nourish and grow your power to create, cherish yourself, stand your ground as you bring forward your unique gifts and soul's heartful creations
Initiation ritual into your wild power
Your ovarian power – discover your inner fire and power to create
How to honor and work with this phase of your cycle to harness its power
Archetypal wisdom – Maiden & Warrioress, Manifestation Rituals
Embodiment practices from Womb yoga and Taoist tradition to connect to inner fire in your belly, to harness your ovarian power, to embody your warrioress
Live Zoom Ceremony via zoom on Tuesday 3rd May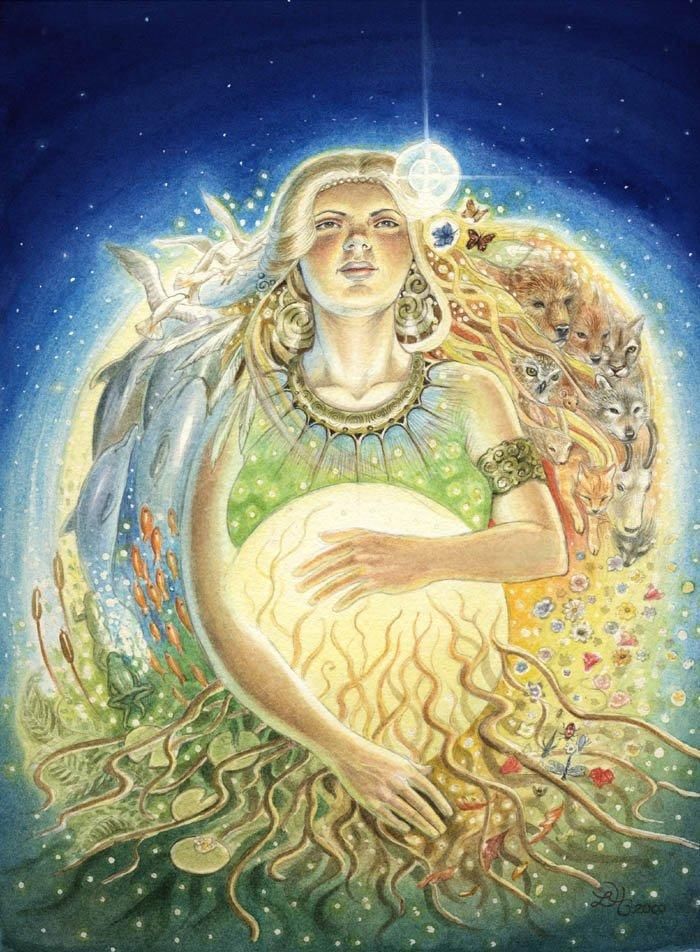 Week 4 Ovulation Phase Your Sexual Power
Connect to the overflow and abundance of your heart, birth your heartful creations into the light, shine in your unique expression and power, embrace your sexual power shamelessly
Creative energies – mothering your creations
Breaking sexual taboo and shame
Discover your sexual power
How to honor and work with this phase of your cycle to harness its power
Archetypal wisdom – Lover and Mother
Embodiment practices from Womb yoga, Taoist and Tantric tradition to connect to your heart, your pleasure and sexual power
Live Zoom Ceremony via zoom on Tuesday 10th May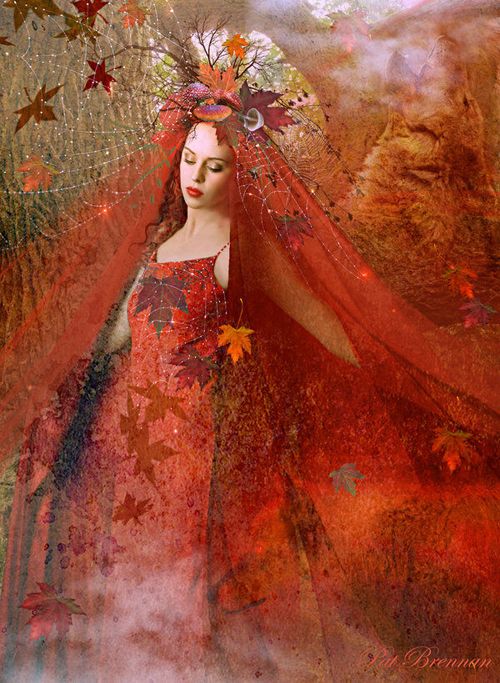 Week 5 Luteal Phase Your Alchemy Power
Mature your power, face your shadows, emotional alchemy, speak out your boundaries, reclaim your magic and inner witch, your power to heal and transform
Inner emotional alchemy – Emotions as your messengers
Redefining PMS – new perspectives, how to turn them into your allies
How to honor and work with this phase of your cycle to harness its power
Archetypal wisdom – Witch and Healer
Herbal medicine
Embodied practices from Womb yoga, Taoist and Tantric tradition to practice letting go, work with your boundaries and create emotional alchemy
Live Zoom Ceremony via zoom on Tuesday 17th May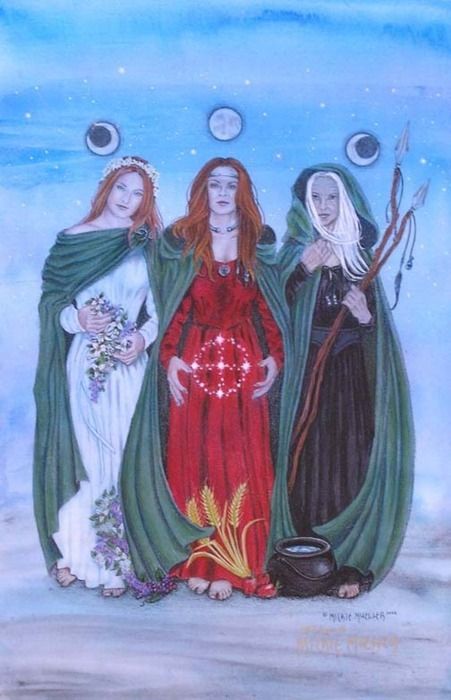 Week 6 Living as a cyclical being in a daily life
Bringing your cyclical wisdom into the world. Integration and celebration of your womb power and wisdom.
Live Zoom Ceremony via zoom on Tuesday 24th May
Dates of our live ceremonies:
Week 1 – 19th April at 18h30 – 21h
Week 2 – 26th April at 18h30 – 21h
Week 3 – 3rd May at 18h30 – 21h
Week 4 – 10th May at 18h30 – 21h
Week 5 – 17th May at 18h30 – 21h
Week 6 – 24th May at 18h30 – 21h
This programme is for you, if:
You are struggling to create and manifest what you really desire
You would like to be initiated into your Womanhood – your menstrual, creative and sexual Power
You feel disconnected from your menstrual cycle and/or struggle with your menstrual cycle – this might show as strong PMS, emotional rollercoasters, general exhaustion, feeling all over the place, painful, heavy or irregular periods etc.
You have any menstrual or pelvic health issues
You feel disconnected from your female body and your femininity and you want to learn what happens in your body every month and how you can use these natural arising energies in your body as your secret powers
You want to live and create in harmony with your cycle and become a super Creatrix
You are on the path of self-development
You want to connect to your witchy powers and ancient wisdom of your blood and cycle
This programme is not for you if:
You are unable or not ready to commit to do weekly practices – this includes learning about each phase of your cycle and embodiment practices
You can't make it to at least 50% of our live zoom ceremonies
You are looking for anatomical menstrual health course and you are not interested in ancient wisdom, rituals and embodied practices
You want a quick fix – this is not a pill that will cover up your symptoms – you are learning to go to the root of what's going on
You are not willing to go deep and face whatever comes your way on your initiation journey
Price
Early Bird until 21st March 199€ or 2 instalments of 2×100€
Full Price from 22nd March 269€ or 2 instalments of 2×135€
Registration will open on 1st March 2022
Please share with me what is your relationship with your womb, your cycle and what is your calling, intention to join this journey.
A little more about me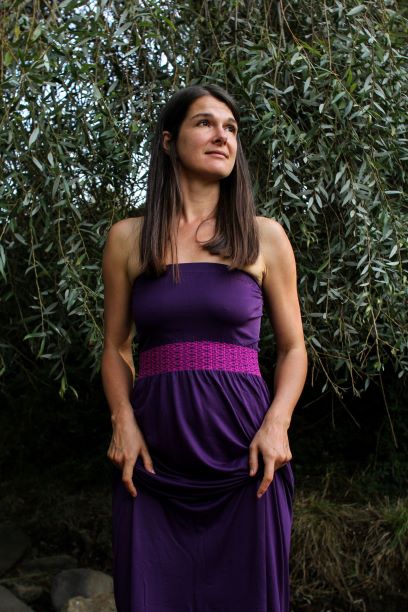 I like to think of myself as an explorer always curious and eager to dive into the mystery and unknown. My great passion is to explore tools and practices that help me to find home within myself by connecting to deep wisdom of the body. Yoga, therapeutic bodywork and women's work related to the sacred feminine, womb wisdom and female sexuality have been accompanying me on my journey of self-discovery, healing, growth, and empowerment.
I'm a certified womb yoga teacher and sacred feminine facilitator from Tao-Tantric Arts. My great passion is to empower women on their path to wholeness by guiding them to reconnect with wisdom in their womb, yoni and heart. I've been working with many women teaching them to live and create in harmony with their menstrual cycle and to remember infinite creative power in their womb. My work also helps women to redefine their relationship to their body, sexuality, and pleasure with tools from Tantra, Taoism (Jade egg and Qigong) and conscious sexuality practices. I love what I do and one of my greatest joys is to see women blossoming as they start to discover the magic in their bodies.