a 6-week Journey into Your Feminine Wisdom and Cyclical Nature
starting on 19th May until 23rd June 2020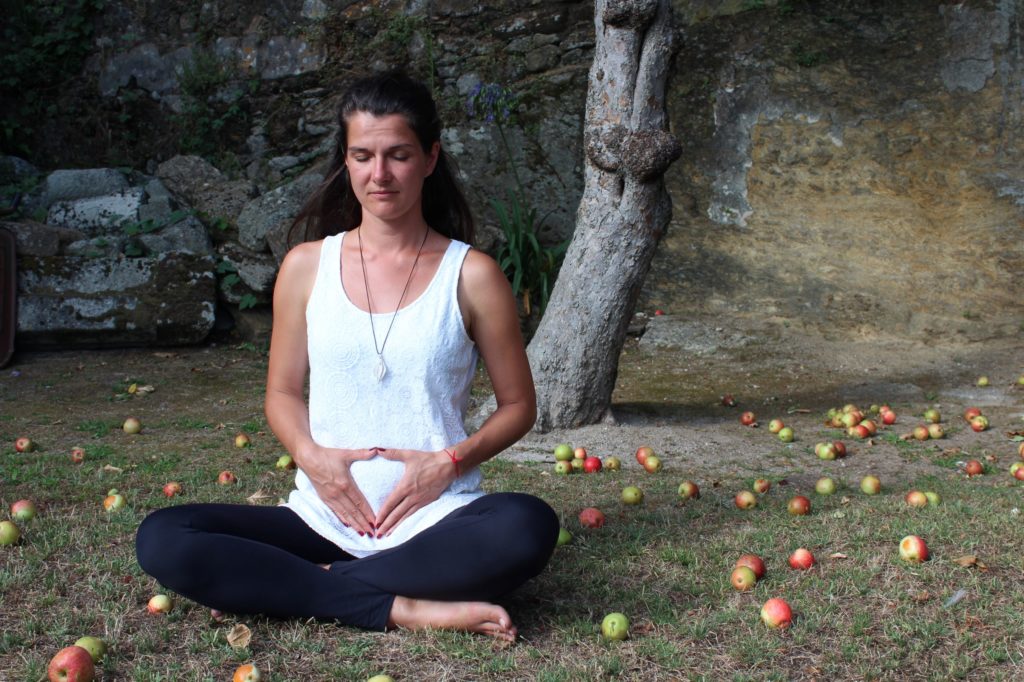 "If you have ever felt that what you are looking for is a yoga that respects and honors you as the woman you are in this very moment then this yoga is for you – Welcome home to yourself." Uma Dinsmore Tuli, the founder of Womb yoga
This is an invitation for all women who long to reconnect to their deep feminine wisdom, inner knowing within their hearts and wombs. You will explore your menstrual cycle, tap into your blood wisdom and learn to honor and respect your own unique rhythms. All these practices invite you to come back home to yourself and make you feel nourished and supported within.
You will learn:
* How to keep track of your cycle and tap into natural powers of each phase of your cycle

* 4 phases of your cycle and how they correspond to moon phases, yearly seasons and 4 female archetypes

* Natural powers, gifts and challenges of each phase and how you can use them to be more in touch with your unique self

* Yoga practices that support you in each phase of your cycle and bring you in a deeper connection with yourself and your cycle

Every session has a theoretical part where you will learn about 1 phase of your cycle and a practical part where you will deepen your understanding and experience of your cyclical nature through yoga practices that support and nurture you from within.

Yoga practice is soft and gentle inviting you to bring your focus within. It includes flowing, rhythmic movements to free and unblock stuck energy, bring vitality and flow of our life force, breath work, pelvic muscle work, meditation and yoga nidra practice. You will tap into your creativity and sexuality and learn how your inner cycles are very deeply connected to all cycles in nature around you.

The course is starting on Thursday 21st May and continues every Tuesday until 23rd June (19h – 20h30 GMT).
Schedule:
19th May – Opening Ritual and Intro
26th May – Menstruation – Your Inner Winter (Part 1)
2nd June – Menstruation – Your Inner Winter (Part 2)
9th June – Pre-ovulation – Your Inner Spring
16th June – Ovulation – Your Inner Summer
23rd June – Pre-menstruation – Your Inner Autumn
Price
Regular price 65€
If you find yourself in a challenging financial situation 45€
For more info and booking Contact Me
What other women said about this course:
"I just finished the 6-week women yoga course with the wonderful Martina. Martina taught us ancient women wisdom about our menstrual cycle and helped us map our own menstrual cycle – this simple thing gave me a new way to connect deeply to my body and self. It helped me to see my mood changes around the month and be aware of the patterns, which I haven't seen before. I'm 36, gave birth twice, and I can honestly say I haven't payed too much attention to my womb and bleeding before. Being connected to my menstrual cycle and practicing the womb yoga really helps me connect to my feminine power and to my yoni – I love it! Martina teaches with a lot of compassion, curiosity and honesty and I loved the special atmosphere we had in our women circle. " ~ Shahar

"Martina provided a soothing, welcoming and safe place for us women that participated in the womb circle.
I enjoyed the knowledge she would share with us at the beginning of each session, the guidance through the exercises, allowing us to feel our emotions in a very natural way. It was a very caring, safe experience. I was able to tap into deep emotions with lightness and care." ~ Teresa
"A Martina é uma mulher incrível e super profissional no seu trabalho. Recomendo as suas aulas e eventos na área da saúde da mulher e tudo relacionado com o reconectar com a essência feminina. O curso de 6 semanas que fiz com ela de Women Yoga foi o primeiro passo para uma grande aventura, a da descoberta do nosso poder como mulheres. Não deixem de experimentar. " ~ Sara