Dive into Your Sensual Body through Voice and Tao Tantra
May 13th – May 15th at Casa do Pateo in Meco, Portugal
When Women gather something magical happens
This retreat is an invitation for you to connect to the natural aliveness in your body and be fully present with all your senses, your breath, your voice, your heartbeat and creative power in your womb. Feeling all the subtle movements of your life force moving and dancing, tuning into all its expressions, untamed and wild, gentle and calm. Allowing the life current to guide you and let it wash over all the layers that block your natural expression.

We invite you to explore what makes you feel truly alive through different Voice & Tao Tantric Practices. We will play with movement, breath, sound, voice, and elements of nature to activate your body and tap into your sensuality and natural sense of aliveness. We will create beautiful rituals and temples to honor your sacred feminine body and creative power within. When we feel safe to be seen and heard we allow each other to step into our naked truth. When we give space to silence and listen deeply, we meet our true essence beyond any layers and patterns that we call our story.
Activate your vital energy in your womb space with conscious movement, breathing and sounding
Connect and listen to your heart in a sacred cacao ritual and express the prayers of your heart
Awaken your sensuality as you immerse yourself in nature and connect to different natural elements in a playful exploration
Receive loving nourishing touch
Dance yourself alive as you activate your chakras and explore your shakti (life energy) and her earthy, watery, fiery, and airy qualities in your body
Sacred temple spaces where you immerse yourself in your senses to awaken your sensual body and honor your yoni – heart – throat connection
Sisterhood Sharing Circle
Singing Ceremony
Modern Women are often disconnected from their bodies due to their upbringing, beliefs and life experiences. Often, we feel we are not good enough, we feel judged and shamed for who we are and how we express ourselves. In response, we repress our life energy and numb ourselves to protect ourselves from pain. We build defense mechanisms that lock our vital energy in the body which creates a sense of disconnect and a lack of aliveness.
Tao-tantra offers powerful tools for you to remember that your true power lies in your body. As you start to dive into your body and cultivate an intimate connection with yourself through embodiment practices, you liberate your life energy and tap into your full aliveness. Your life force is naturally ecstatic, it wants to play and create. As you tune into its expression and allow it to move, you discover your divine nature. You realize your body is your true temple. Every breath, every heartbeat is a desire of life to find its unique expression, to be alive. As you start to consciously move, breathe and sound into your pelvis and your womb, you connect to the raw, creative, sexual power within you. You awaken your sensual body and start to honor your body as a living temple.
One of the most intimate ways to express what is alive in you is through your voice. Your voice carries your full spectrum of emotions – wild, soft and strong, vulnerable and open, the raw sounds of your being, when you laugh and cry. It reminds you to share and speak the language of your heart, because what you say and how you say it matters. When you really listen and speak from your heart, you welcome your voice exactly as she is and you meet your true essence. Your embodied voice helps you activate the creative energy in your womb space. As your voice starts to travel down your throat into your pelvis, stimulating the vagus nerve, your body drops into a place of relaxation. You release stuck emotions and physical tension around your jaw and pelvis which frees up your voice and creates more space for your sensual body to come alive. As we join our voices together in song our bodies experience a sense of release, expansion and joy.

This retreat is for you if you want to:
Cultivate a more intimate and loving relationship with your body
Open up new pathways in the body to feel more aliveness and vitality
Connect to your sensuality
Explore and reclaim your wild feminine nature in all her expressions
Feel supportive energy of the sisterhood
Unlock blockages and free up your voice
Activate the connection between your voice and pelvis
~
We, Martina and Anna Grabner, are excited to invite you to this Women's Retreat and share practices we love, from the Voice and the Tao Tantra World. Our intention is to create a playful and sacred space where deep connection is possible and each woman feels honored and celebrated. We invite you to step into the Women's Temple and feel full permission to be exactly as you are, as you dive into your sensual body.
~
Date and Location
May 13th – May 15th 2022
Casa do Pateo, Meco, Portugal
CASA DO PATEO
Our Women's retreat is held at Casa do Páteo, a country house, with 10,000 square meters, surrounded by pine forest. Located in Sesimbra, in a peaceful area in the heart of a natural reserve. It has a beautiful patio with an outdoor pool, where you can enjoy the silence and the company of each other. From the pool, a path leads through the small orchard and takes you to the geodesic dome. Nestled in between the trees, this beautiful dome will be our temple space where we will do most of our practices.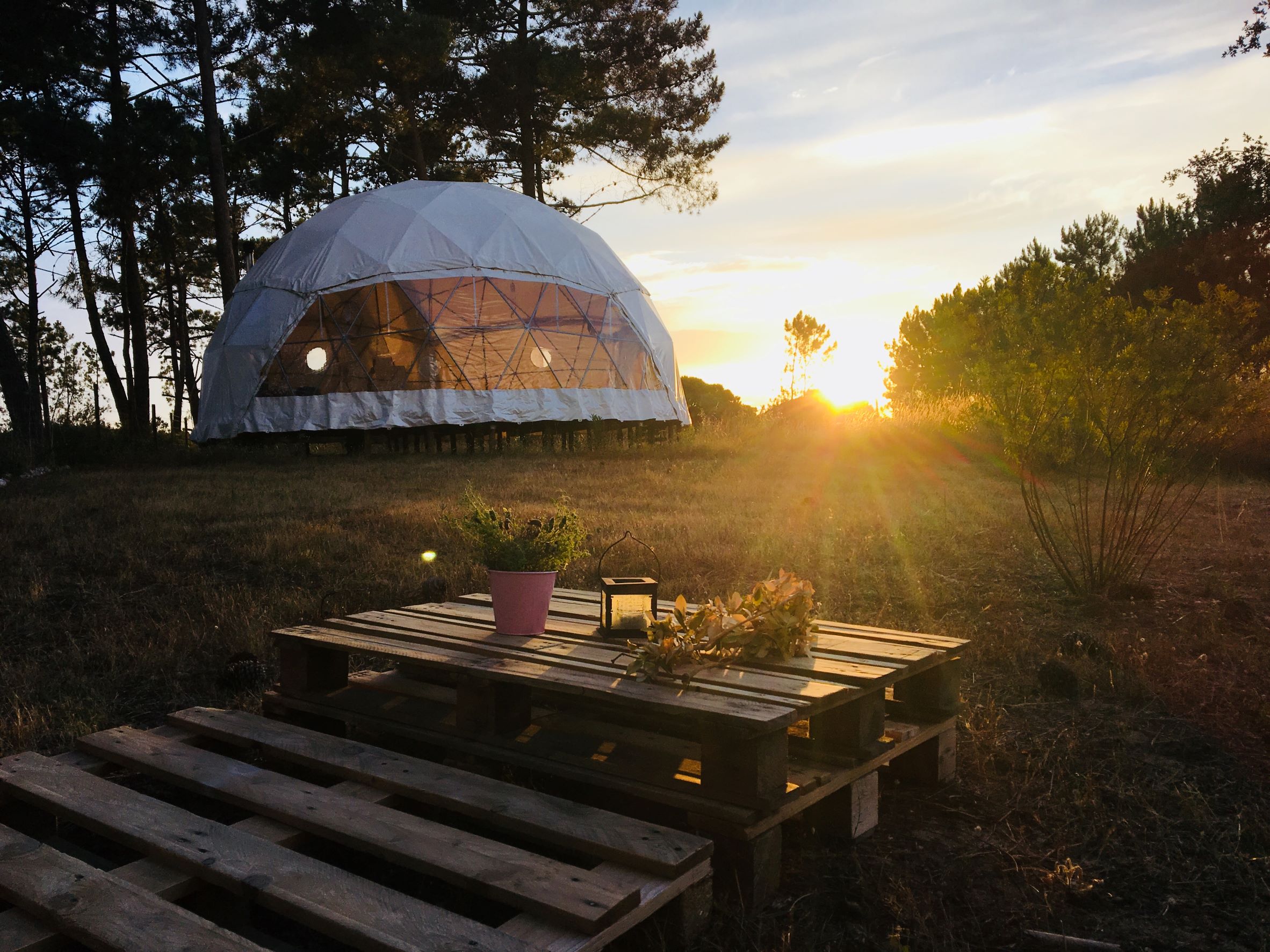 Accommodation Options
a room with 2 single beds with a shared bathroom
a room with 3 single beds with a private bathroom
a room with 4 single beds with a private bathroom
a dormitory with 4 bunk beds with two bathrooms
If you have a preference for one of the more private options there is an extra charge of 50eur. Otherwise you will be allocated a room as available.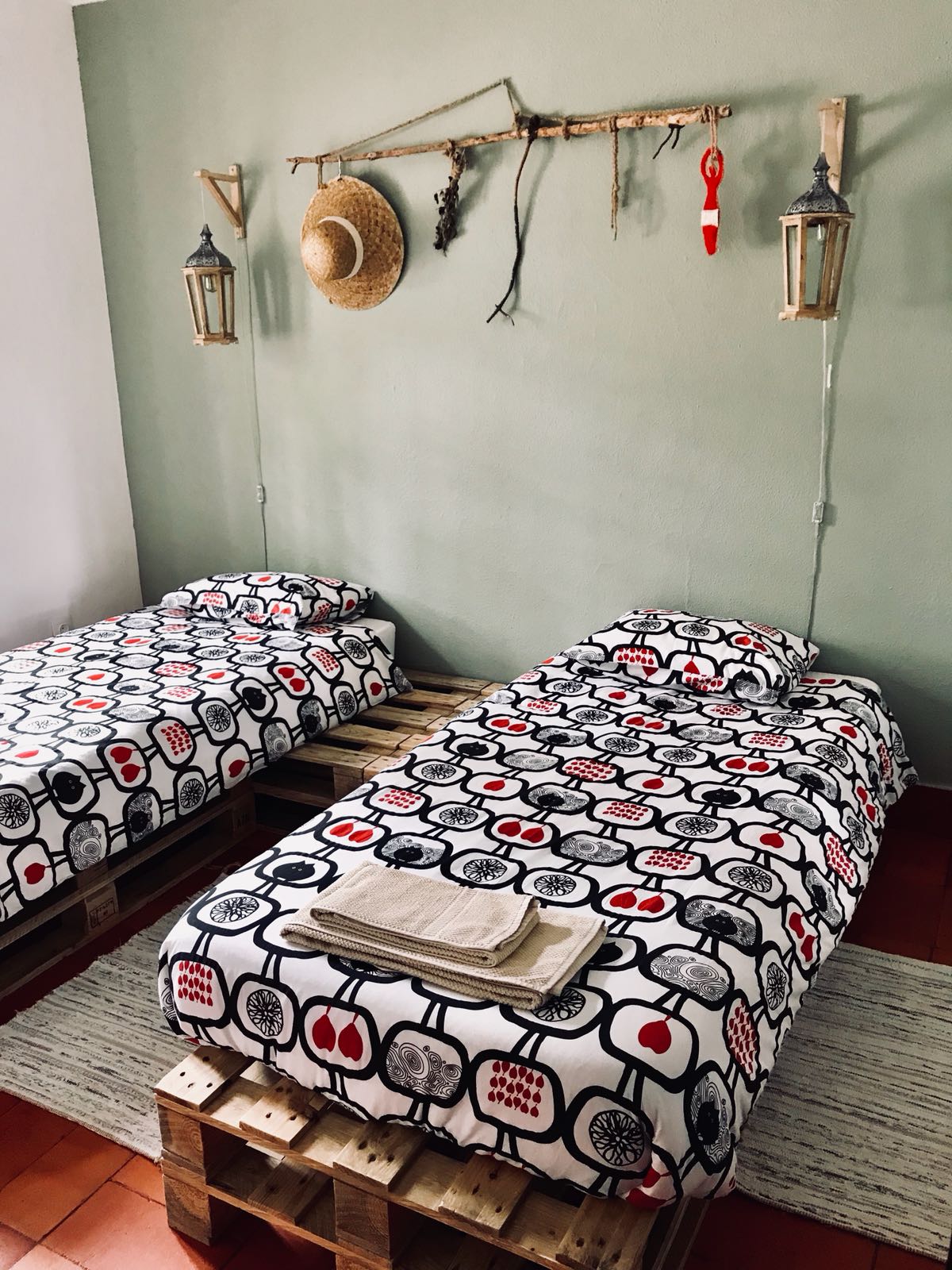 FOOD
The food served will be vegetarian. Please inform us about any food allergies or special dietary requirements you may have.

PRICE
Early bird – 330eur – full payment due by March 20th 2022
Full Price – 390eur – full payment due by May 6th 2022
WHAT'S INCLUDED:
• 2 nights' accommodation
• 3 vegetarian meals a day
• Bed linen and towels are provided
Internet access is available.
*
BOOKING & PAYMENT
To book your place, please fill in a registration form here. You will hear from us within 1-2 days with further information. If you have some doubts or questions you can get in touch directly here
We require a 50% deposit in order to secure your booking. You can make the full payment at once or just the deposit required.
Note: Reservations are effective when you receive a confirmation from us.
*
YOUR FACILITATORS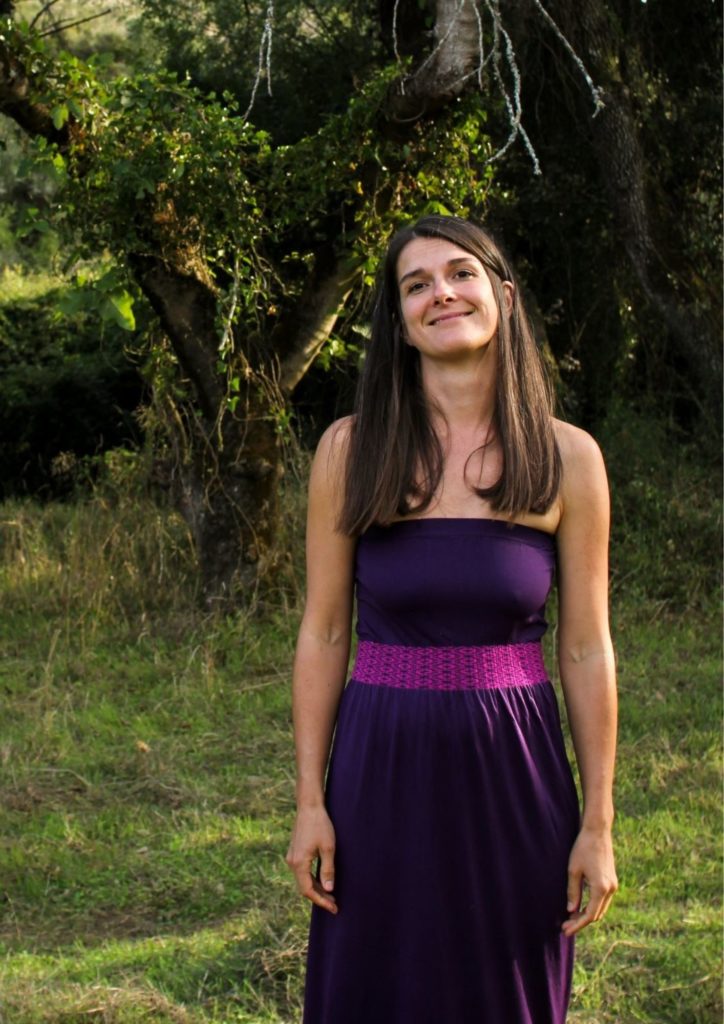 Martina Vonkomerova
I'm a certified womb yoga teacher and sacred feminine facilitator from Tao-Tantric Arts. My great passion is to empower women on their path to wholeness by guiding them to reconnect with the wisdom of the female body and to remember immense creative power in their wombs . I've been working with many women teaching them to live and create in harmony with their menstrual cycle and reclaim their sexual power through embodiment practices and rituals from womb yoga, therapeutic bodywork, Tantra and Taoism and conscious sexuality practices. I love what I do and one of my greatest joys is to see women blossoming as they start to discover the magic in their bodies.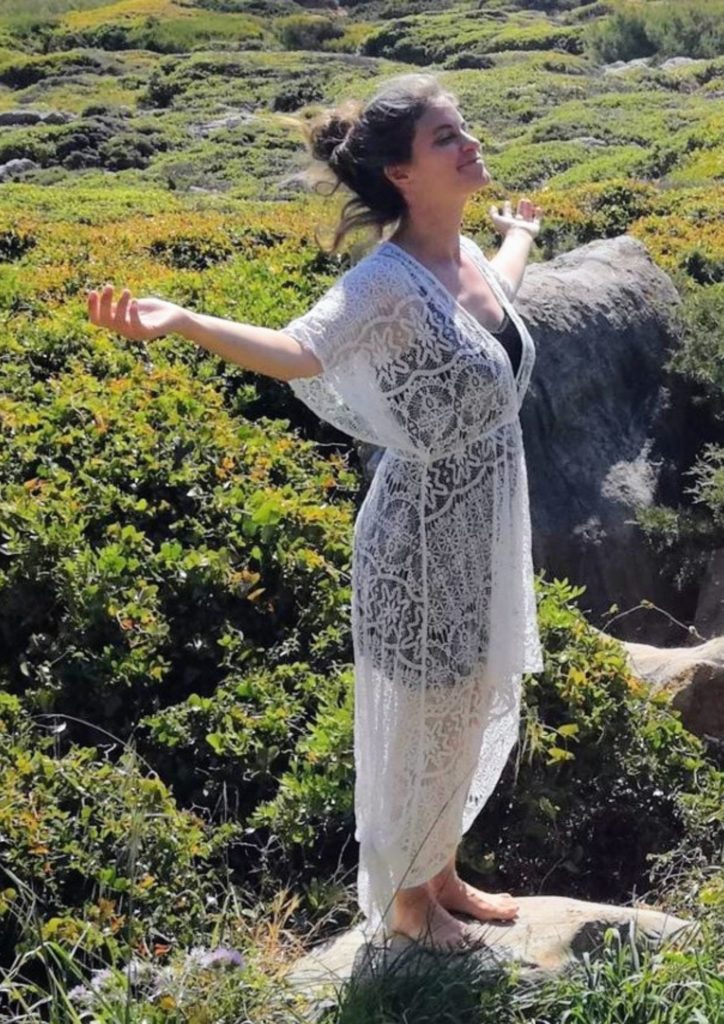 Anna Grabner
Anna is passionate about the transformational potential that each voice in each unique body holds. As a singer and psychologist, she felt the need to integrate her inquiry of the creative and therapeutic singing voice and found an inspiring match in the Voice Movement Therapy (VMT) Training in South Africa in 2012.A curious soul with Austrian and Celtic roots, she chose Portugal as her home base for her practice. She co-organises sisterhood circles, inviting women to reflect on self-care and to share and express themselves through the world of song and dance. She believes in the power of Song and Ritual and hosts Soul Song Gatherings, where people can connect through simple meditative songs, written by herself and other singer-songwriters. Her intention is to provide a safe playground for profound and creative self-expression, to encourage women to awaken their innate voice wisdom and to reconnect with their voice in a truthful way.